Dr. Eric Mayuga has honed his physical space and brand across two decades, astutely blending the magical warmth of his historic building and small-town locale with mid-mod design and high tech.
"WELL… THIS DOESN'T look like much." That's what Dr. Eric Mayuga thought when he first laid eyes on his current office space on Main Street in Gardner, Kansas, in the late 1990s. Back then, he was an associate, and the office was merely a satellite location for a much larger practice, which was open only two days a week.
But it clearly had promise. Although the practice was dated and desperately in need of some love, he remembers that Gardner was "poised to explode" as development and residents began flowing in from nearby Kansas City. So when the practice's owner approached him about buying it, he quickly said yes. "I suppose I wasn't too apprehensive because it wasn't a huge investment, and there wasn't a whole lot to lose," he says. "I was banking on growth potential."
Dr. Mayuga's instincts soon proved correct. By 2000, he had purchased the entire building and was already embarking upon his first build-out. Time flew. Between then and now, Gardner's population nearly tripled, to near 24,000. The town's patient base has become increasingly sophisticated, with a growing appetite for higher-end cosmetic dentistry. Over the years, he had invested in a series of smart expansions and renovations, but the time had come to make one big move that would position his practice for the next decade or more of growth.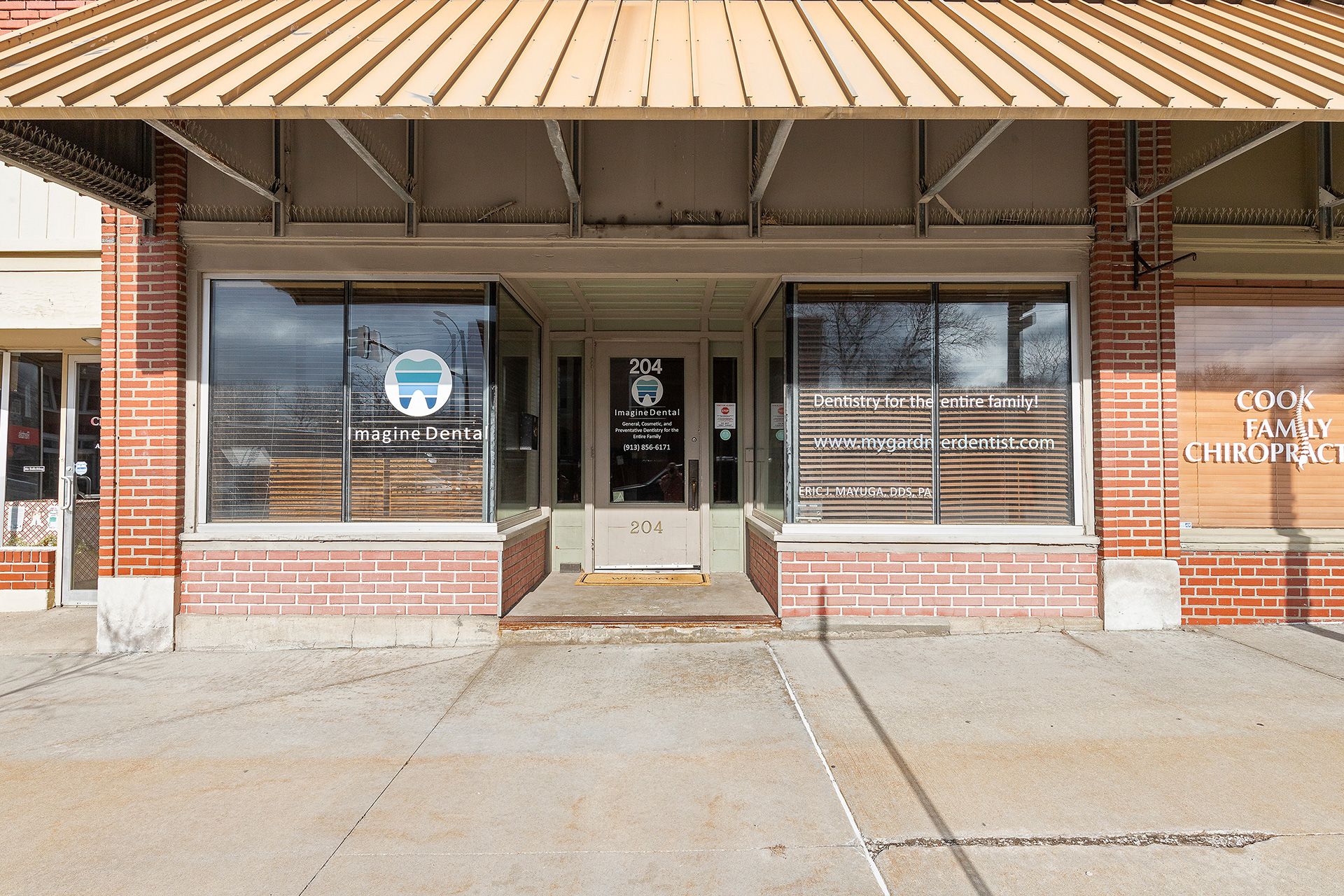 "It took us about 15 years to really find our identity," Dr. Mayuga says, citing his practice's rapid growth and the area's continually evolving demographics. "A few years ago, the realization set in that we simply want to treat families. That's our lane. Our youngest patient is 3 and our oldest is 102. When I started planning this expansion, I was determined to communicate the right message. We didn't want a brand that said 'No kids allowed.' Yet we also do complex cosmetic cases on a regular basis."
The pandemic, plus supply chain issues and the challen­ges of renovating a 1920s-era building, slowed the process. Luckily, it allowed for collaboration among all parties. Dr. Mayuga's architect, Guy Groberg, was adamant about preserving as many period details as possible while smoothly integrating them into a cohesive whole. The doctor also hit it off with Benco Dental's interior design team, connecting over a shared enthusiasm for the midcentury modern aesthetic.
He settled on a calming palette of cool gray and blue to both accent and flow through the office. An open reception area ("nobody wants to be greeted by a sliding glass window") and home for a treatment coordinator were nonnegotiable. "You don't want to rush through an elaborate, $10k case presentation, but at the same time, I didn't want a space that felt like patients would be closing a deal at a car dealership."
Dr. Mayuga also worked with Benco Dental's brand design specialist, Allison Simenkiewicz, for a thorough logo and visual identity rework that not only incorporates colors and design elements from the office, but also emulates the mood of brands he personally admires and feels a connection with. He laughs when he thinks back to his first logo: a smiling tooth flashing a thumbs-up. However, anyone who lived through the 1990s knows that was right for the time.
Today, though, Imagine Dental is in perfect harmony with its location, patients, team and ambitions. It's historic and authentic, but not old-timey. The blending of more-modern elements and Dr. Mayuga's high-tech equipment manages to feel just right, never jarring. With eight ops and room for four more, there's plenty of planned room for expansion—a good thing, considering he added an associate dentist and more than 300 new patients just since last summer.
At 53 years old, he feels confident this is the renovation and rebranding that will take him through to retirement—or to the next generation of Imagine Dental's owners, given that his two children are following in their father's footsteps by pursuing careers in dentistry. "If they decide to join the practice," he says. "it'll be ready for them to take in their own direction."
It took us about 15 years to really find our identity."