Make it an elegant, beautiful and visually striking decade! We have, with our tenth annual showcase of several of the most functional, aesthetically eye-popping dental practices across the country.
A DECADE IS long enough to see trends and changes in both interior design and medical technology emerge, take shape and eventually become dominant. That's clear in this, our tenth annual Design Competition, which highlights a trio of practices around the U.S. that best exemplify the marriage of form (a luxury in a dental office) and function (a necessity). These three are vastly different, yet each succeeds according to the doctor's personal taste and clinical needs. Have a look—and may the next 10 years of practice design be as fruitful as all we've chronicled in the decade just passed.
METHODOLOGY
Our criteria for design excellence have remained essentially the same over the past decade: We canvass doctors, equipment specialists, architects and designers around the country for nominations in three categories: Best New Construction, Best Repurpose and Best Specialty. We send all nominations to our blue-ribbon judge panel (below), who select the winners and share their thoughts on why each merits inclusion.
MEET THE JUDGES
Joyce Bassett
DDS, FAACD, FAGD
Dr. Bassett practices comprehensive restorative and aesthetic dentistry in Scottsdale, Arizona. A 2016 Lucy Hobbs Project honoree for Clinical Expertise, she is a prominent lecturer and author and the founder of the Women Teaching Women Cosmetic Learning Facility. Arizona's only accredited fellow in the American Academy of Cosmetic Dentistry, Dr. Bassett is now president of that organization.
Andrew Lyons DDS
Dr. Lyons earned his DDS from Meharry Medical College in Nashville and currently practices at Smile Savvy Cosmetic Dentistry in Charlotte, North Carolina. He and his wife, Dr. Joya Lyons, practice in tandem and are the founders of The Lyons Share charitable foundation. Dr. Lyons has lectured about dental-practice design, aesthetics and interior flow to industry groups across the country.
Tristan Hamilton DDS, M. ARCH
Dr. Hamilton practiced architecture in Washington, D.C., where he worked on such notable projects as the Las Vegas City Master Plan, Vanderbilt University Master Plan and numerous United States Embassy renovations. His design work has appeared in a variety of publications; he has also won an award for best overall practice design from Incisal Edge. He practices in Hendersonville, North Carolina.
Phyllis Marshall-Rice LEED AP, EDAC
Marshall-Rice is the health-care design manager at Herman Miller, where for three decades she has served in many design-related training roles. She and her team focus on creative solutions for inpatient, outpatient and administrative facilities. An LEED Associate Professional who is certified in Evidence-based Design Accreditation and Certification, she earned a BFA in environmental design from East Carolina University.
---
BEST NEW CONSTRUCTION
SEARCH DENTAL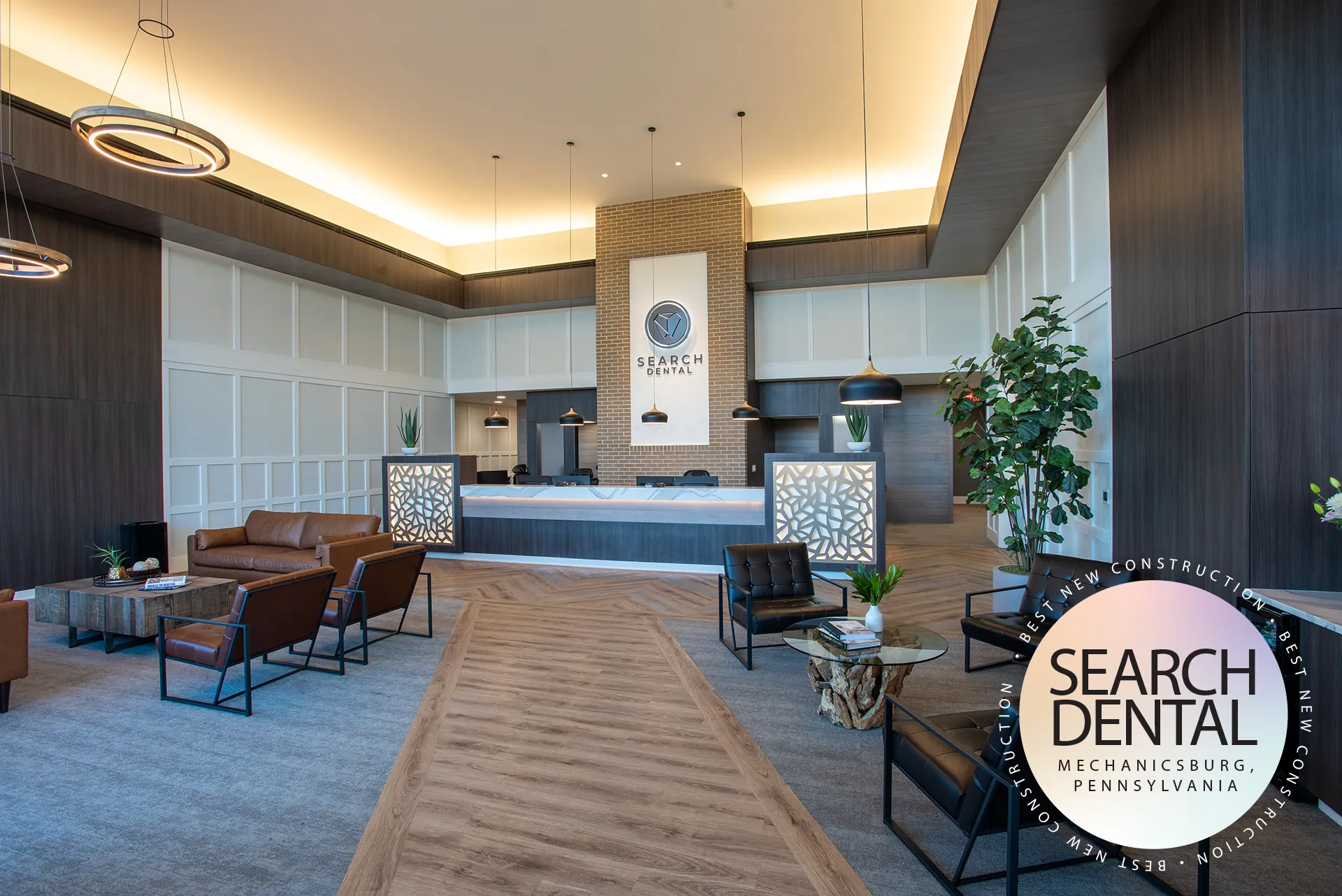 ENTER THE grand foyer of Search Dental near Harrisburg, the capital of Pennsylvania, and you'd be forgiven for thinking you're instead sauntering up to a swank big-city bar. The sleek ethos comes courtesy of a mix of wood, metal and leather under high ceilings, plus finishes that are borderline couture. The finishing touches: conversation-promoting reception room seating and a self-serve coffee bar. It's easy (well, almost) to imagine Frank Sinatra cradling his Jack Daniel's on the marble-topped reception desk.
It'd be apt, if a bit incongruous, to run into Ol' Blue Eyes here, given that a Rat Pack–era sensibility was a major inspiration for this 7,500-square-foot practice's $3.1 million design. (The original budget was $2.5 million; supply chain snarls played havoc with material costs, which largely accounts for the overrun.) Search Dental's eponymous managing partner, Dr. Joseph Search, is also a partner with the burgeoning Verber Dental Group. The interior design was a family affair: Dr. Search and his wife, Rebecca, had help from his sister-in-law, who runs a firm called Veronica Search Designs, as well as from KD3 Design Studio. Both shops are in the nearby area.
Elegant with a modern twist. The patterns from the wood floor and carpet in the waiting room contrast just the correct amount and give you a red-carpet-at-the-Oscars feel. Excellent design."

—Joyce Bassett, DDS, FAACD, FAGD
Construction began in August 2021 but was put on hold briefly thanks to significant un­expected hurdles: those supply-chain hassles, plus the need to excavate a large amount of rock at the site. "We had to make strategic decisions throughout to make sure regular construction supplies would make it to the site when needed," Dr. Search, 38, says. "In the end, we were able to bring a top-of-the-line dental facility to a rapidly growing community that desperately needed more patient care." The build was finished in June 2022.
It's not just a dental practice. Search Dental's gorgeous interior variously hosts fundraisers, tailgates and children's programs. "The trend in dental design is to optimize space with as much utilization per square foot as possible," says Verber Dental's Dr. Michael Verber. "We went in the other direction with Search Dental, maximizing comfort for our guests by offering them personal space and amenities." That consideration naturally extends to the dental team; a large cafe-style breakroom is on site, and each staffer has a personal locker and access to any of three private changing rooms, which can be used as prayer rooms or space for new mothers to pump as well.
The understandable focus on comfort is not to ignore the high technology that completes Search Dental. Before construction broke ground, Dr. Search and his team traveled to DCI Edge in Charlotte, North Carolina, for equipment inspiration. The practice now incorporates Overjet AI systems, iTero digital scanners, NSK electric handpieces, large televisions and a Sonos music system. It all comes together to make a place you wouldn't at all mind spending time in after hours. Care for another round, Frank?
Contractor: ECI Construction
Architect: KD3 Design Studio
Engineering: Dawood
Design: Veronica Search Designs
Equipment Specialist: Ernie Verna, Benco Dental
Friendly Benco Rep: Matt Magill
Photography: Alan Wycheck, alanwycheckphoto.com
---
BEST SPECIALTY
RESTORATION DENTAL

A NASHVILLE-AREA native who knew the city and its surroundings well before it was quite the bustling behemoth it has since become, Dr. Nick Norvell was sensibly animated by visions of calm, compassionate care when he and his wife, Kami, designed and opened Restoration Dentistry as the first (and still only) prosthodontics practice in Mt. Juliet, Tennessee, just east of Music City. The build came in at $363,000, just a smidge over its initial budget.
Early in the construction process, the Norvells adopted the rhythmic slogan "It's never too late, you're never too far gone. Restoration is for everyone." (You can perhaps picture a country star plucking a guitar and singing that onstage at the Ryman Auditorium.) The mantra inspired the way the couple planned the practice interior and its design. They understood that for most patients, prosthodontic care is not an overly comfortable experience—a sentiment they hoped to change or at least mitigate.
The interior is highlighted by cozy wooden tones and almost sensuous textures. Lush plant life thrives throughout the sunlit space (the floor-to-ceiling windows were a central design focus during planning and construction), while lashes of bright green paint and cheerful yellow fabric accents are reflected in the polished concrete flooring that runs throughout. Exposed ceilings displaying industrial ductwork and plumbing are offset by sleek hardware finishes.
This six-operatory space, occupying 2,500 square feet, sits above a protected watershed. Despite the attendant construction difficulties, the Norvells were determined to take advantage of their unique location and natural surroun­dings, designing the office's footprint to place each patient front and center at one of those tall, elegant windows.
Fresh color palette. The combination of concrete, black and white, earth tones and pops of bright green really pull the space together without overdoing it."
—Phyllis Marshall-Rice, LEED AP, EDAC
Long and narrow, the office did present some architectural challenges—as did Mother Nature. "On March 2, 2020, an EF3 tornado moved through Mt. Juliet, devastating our community," Dr. Norvell, 35, says. "Little did we know that less than a month later, we'd be shut down by a global pandemic. While we didn't have to navigate the waters of construction during the pandemic, we had to figure out how to be a brand-new business during that time." Perseverance—and an eager local patient base—carried the day, happily. "Without the support of our community," the doctor adds, "I feel hard-pressed to believe we would still be here."
Contractor: Thomas Constructors
Architect: Lean Dental Design
Dental Designer: Dr. Nick Norvell
Interior Designer: Kami Norvell
Friendly Benco Rep: Michael Mountain
Photography: Amiee Stubbs, amieestubbs.com
---
BEST REPURPOSE
ELMHURST FAMILY DENTAL

THE FREE-STANDING STRUCTURE that now houses Elmhurst Family Dental didn't begin its life as an elegantly appointed 2,800-square-foot practice. Its origins were far more prosaic: It served as the office for a small firm of tax attorneys. Dr. Louis Pahopos knew its good bones were destined for far greater things than itemizing deductions.
In tandem with Apex Design Build, a full-service Chicago-area contractor that handled construction and interiors, Dr. Pahopos, 54, set out on his renovation with Greek design influence in mind, intending to end up with a practice that offered amenities for his dental team and his patients alike.
Things went smoothly; the reno was complete just four months after Dr. Pahopos took a sledgehammer and ceremonially smashed through drywall in April 2021. At $700,000, it came in precisely on-budget, too. The space now features seven treatment rooms, with operatories on one side and hygienist bays on the other. Standout elements include a private consultation room, a separate billing-and-insurance office and a large sterilization unit situated away from patients' views.
With sanitation and comfort naturally front of mind, Dr. Pahopos included a laundry room for his dental team so they can wash and dry their scrubs and other apparel without having to take them home. Air purifiers dot the space; every dental chair is equipped with massage settings to help put patients at ease. The renovation team turned the existing basement into a large staff lounge and conference room.
A well-thought-out floor plan makes this office rise above. Sometimes the simplest solution is also the most elegant. The circulation created by this design is efficient and wonderfully simple."
—Tristan Hamilton, DDS, M. ARCH
The modern vibe features shades of cool gray and blue, conjuring a sense of serene waters. Bursts of bright color, such as a pair of fabulous royal-blue velvet chairs in the reception area, provide a luxe counterpoint, while elements such as herringbone subway tile and exposed painted brick knit together an array of textures and dimensions. Natural light abounds, and archways—another nod to Greek influence—offer seamless transition from one area to another. The inviting reception area comes complete with a fireplace and beverage bar. (Note, too, the practice logo at the front desk; its swooping lines echo all those arches while forming the image of a tooth.)
A modern Greek build-out—it's all about the arches!"
—Andrew Lyons, DDS
Good looks and classical touches go only so far, of course, and Dr. Pahopos took care to consider the ways dental technology and daily workflow would affect (and could be improved by) his renovation. "The layout is designed for flexibility and speed," he says. "Our space allows modern organized areas with the ability to adapt to an ever-changing environment." iTero scanners, 3D printers and space allotted for CBCT and additional tech complete the forward-thinking aesthetic. "We're always looking for ways to be on top of new trends and technologies to make dentistry faster and better."
Contractor: Apex Design Build
Architect: Apex Design Build
Design: Apex Design Build
Equipment: Benco Dental
Friendly Benco Rep: Brandon McMahan
Photography: Peter Tsai, petertsai.photography