By Jerilyn Forsythe and McKenzie Kupchik
AFTER TWO YEARS of trying fitfully to emerge from the grip of the pandemic, much of that time spent fretting about the long-term impact on the dental industry, it's refreshing to observe that we seem at last to be emerging into a (somewhat) post-Covid environment in which the future of dentistry can mostly be concerned with, you know, dentistry.
Which is not to say the novel coronavirus (or other, looming pathogens) isn't an important topic that should properly be a part of industry discussions in the years ahead. But it is nice to be able to refocus just a bit.
This is the sixth year Incisal Edge has published this list, and throughout, our definition of influential has remained broadly the same, however nebulous the concept is at its core. There's financial influence, of course, medical and clinical influence, and (now more than ever) the megaphone of social media influence. We've covered them all on the pages that follow. One common thread, from our repeat No. 1 on down: the increasing prevalence of digital dentistry, which will exert its own particular kind of influence on the profession in the years to come.
Do you like our 32 choices (one for each adult tooth, of course)? Hate them? Disagree? Who did we unconscionably leave off? Let us know! Our readers exert influence on us, after all, and we'd love to hear from you. In the meantime, take a gander at the vast array of important players—and much more—on the pages ahead.
---
JOSEPH HOGAN
CEO, President and Director, Align Technology
San Jose, California
Last year: 1
CONGRATULATIONS, SIR, on your repeat appearance in the top spot. The reigning monarch of clear aligners and related dental tech, Hogan and his company have enjoyed another banner year in a market that Align pretty much created ex nihilo.
We need not belabor the details, but Align's principal product, Invisalign, is almost proverbial for being the most advanced clear aligner in a dizzyingly competitive market space. It bundles three key pieces of technology: Smart­Track (its patented alignment material); SmartStaging (which programs each tooth movement in sequence); and SmartForce (which provides precise movement for the teeth via proprietary Bite Ramps, Precision Cuts and Power Ridge). It all adds up to some 12 million smiles—and counting—made straighter and prettier over the years.
Invisalign might be the heavyweight champion in Align's portfolio, but the undercard contenders aren't too shabby either. "In 2021, Align achieved major base milestones," Hogan tells Incisal Edge, "including our 12 millionth Invisalign patient, 68,000th iTero scanner sold and 47,000th Exocad software license sold." Heady stuff—and we're not the only ones who have noticed. Align also claimed top awards on Institutional Investor's 2022 All-America Executive Teams and Most Honored Company lists.
There's more (and updated) Align tech currently making waves as well. This March, the company released a new CBCT integration feature—advanced technology that enables practitioners to focus on proactive, not reactive, treatment planning, offering clear visuals of patients' roots as part of the planning process. Hogan's not shy about singing the company's praises in that regard. "As the pioneer of the invisible orthodontics market and the leader in the evolution of digital dentistry, we're constantly innovating to bring new and better solutions to doctors and their patients around the world," he says.
This year is even something of a milestone for Align, which celebrates its twenty-fifth year in business. "Our continued focus will be on our strategic priorities as we transform smiles and change lives," Hogan says. "International expansion, patient demand and conversion through innovative marketing campaigns to help drive prospective patients to doctors' offices and orthodontists, with Invisalign now applicable to approximately 90 percent of orthodontic case starts and treatments with digital tools designed specifically for general dentists to incorporate Invisalign into their workflows."
About that international expansion: A group called Don't Fund War, using a list of companies provided by Yale's Chief Executive Leadership Institute, castigates Align for "digging in" and resisting calls to cease doing business in Russia. (Align did not respond to a request for comment on this.)
Geopolitical ructions aside, after more than two decades as a public company, Align is still the industry standard for innovation. Its stock has tumbled a bit so far in 2022, but its $24 billion market capitalization (as of press time) means it's a force to be reckoned with. Until a competitor can dent his armor, it's clearer than ever, so to speak, that it's Joe Hogan's world, and the rest of us are just living (and smiling) in it.
---
GUILLAUME DANIELLOT
CEO, Straumann Group
Basel, Switzerland
Last year: 2
THE TRIUMPHANT ARC across which Straumann Group head Daniellot has led his product manufacturer in the face of so much recent global uncertainty is reason enough for the Frenchman to maintain his spot in the upper echelon of this list.
He stepped into the shoes of his predecessor, industry giant Marco Gadola, in January 2020. Inauspicious timing, to be sure. Yet he was able to keep the company on a steady course through the worst of the pandemic, boosting its stock price some 75 percent in 2021. He stepped up hiring as well; the Switzerland-based Straumann Group now has more than 9,000 em­ployees worldwide. Revenue, accordingly, was up 40 percent in 2021, to $2.1 billion. The company says it "made an impact" on 3.7 million smiles around the globe last year, and Daniellot says his goal is to boost that figure to 10 million, and revenue to around $5 billion, by 2030.
Straumann Group has had its hands in all things dental since its 1954 founding: research and development, manufacturing, distribution, instruments, biomaterials, CAD/CAM, digital equipment, software and clear aligners. In 2021, it saw sales of its BLX implant grow; relaunched its intraoral scanner, Virtuo Vivo; introduced ClearPilot, a new ortho software; and began making ClearQuartz, a clear aligner material, in Europe. Projections by Robert W. Baird analyst Jeff Johnson (see No. 27) indicate that Straumann Group will likely boost the market share of ClearCorrect, its own aligner.
Daniellot is passionate about socially responsible corporate governance as well, aiming to have women fill half of Straumann Group's leadership positions by 2026, and 100 percent of its electricity sourced from renewables two years earlier. (It's currently at 69 percent; its 2021 annual report noted that it has reduced its per-employee electricity use by 11 percent and has donated to more than 30 philanthropic endeavors worldwide.) So-called "ESG" management often collides hard with the need to turn a profit; Daniellot is showing others in the industry how it might be done.
---
CHERYL PEGUS
Executive Vice President of Health & Wellness, Walmart
Portland, Oregon
Last year: 5
AS TRADITIONAL health care models undergo tectonic shifts, Walmart Health & Wellness is primed to meet patients where they are—literally.
Under Dr. Pegus, a cardiologist and executive whose CV includes stints at Aetna, Pfizer and Walgreens, Walmart seeks to open 4,000 health "supercenters" by 2029. It now has just a couple dozen in Georgia, Florida, Arkansas, Illinois and Texas; they offer labs, X-rays and diagnostics, optometry, counseling, dental and more. The centers pledge "low, transparent pricing for key services regardless of insurance status."
We wrote last issue about the recent troubles of Walmart Dental, and the company has yet to name a new head of dentistry, a position that has been vacant since August 2020. In the meantime, Dr. Pegus is working to fortify the company's clinics in the face of some board opposition. Walmart's seeding of its clinics means residents who live nearby can get whole-body care (an EKG and a teeth cleaning on the same day, for example). An influx of Walmart Care Clinics will mean additional jobs in the locales they serve as well.
Customers can now access more than 50 lab-quality tests—such as those for Covid-19 and seasonal allergies—through Walmart's Well­ness Hub, a new online portal.
Technology is another focus for Dr. Pegus. Last fall Walmart announced a long-term partnership with Epic, the maker of an electronic health-record platform, committing to using its tech across all of Walmart Health & Wellness's business lines. "Leveraging partners like Epic will [help us provide] a unified record across care settings, geographies and multiple sources of health data," Dr. Pegus tells Incisal Edge in a statement. "The Epic system complements our omnichannel health care offerings, [leading] to more personalized care." Walmart Dental is navigating rough seas; we'll certainly be watching. But its overall health-and-wellness efforts are in capable hands.
---
RENA D'SOUZA
Director, National Institute of Dental and Craniofacial Research
Washington, D.C.
Last year: 3
LAST YEAR WE put Dr. D'Souza on the cover of this issue, and if anything she has become a bigger player in the 12 months since. That's due in part to money: As head of the NIDCR, she's in charge of a $516 million budget this year, up 31 percent from the 2021 fiscal year.
Much of that goes toward her organization's vast research base, which accounts for roughly 68 percent of all NIH funding to U.S. dental schools. The NIDCR is the largest oral health financing research group on earth. Understandably, a large chunk of its attention in the last year was focused on managing and controlling SARS-CoV-2, measuring transmission rates through saliva droplets and aspiration, assessing the efficacy of masking, strengthening antibody testing and protecting patients and providers on the frontlines of care—urgent tasks that are ongoing midway through 2022.
Outside the shadow of the pandemic, though, the NIDCR funded technologies designed to regenerate injured nerves, an AI tool that helps diagnose rare genetic diseases in children and continued research into a leading gene therapy for salivary dysfunction.
Dr. D'Souza also continues to break down barriers to dental-care access. She cites the release of Oral Health in America, the 2021 report from the office of U.S. Surgeon General Vivek Murthy (see Drs. Bruce Dye and Judith Albino, No. 25), as a highlight, as well as the unveiling of the NIDCR's 2021–2026 Strategic Plan, "a road map to ensure that diversity, equity and inclusion are linked with our programs, and that our investment in discovery science and population health sciences ensures better health for all," D'Souza tells Incisal Edge. "Overall, a meaningful year for the NIDCR, and for me."
---
BILL DORFMAN
Influencer, Television Personality
Los Angeles
Last year: 10
THIS COSMETIC DENTIST, 62, a four-decade Angeleno and owner of Century City Aesthetic Dentistry, is as good at marketing as he is at caring for patients. His influence is legion: He has appeared on Oprah, The Doctors, The View and Extreme Makeover. He's known as the Hollywood Dentist and (courtesy of the late Larry King) "the Michael Jordan of Dentistry." His 1.3 million Instagram followers (@drbilldorfman) and his growing audience on TikTok (@DrBillDorfmanOfficial) make clear that he's our industry's top social influencer.
According to 2021 data from Statista, more than 60 percent of Instagram users worldwide are under 35, and half of TikTok users are 30 or younger—a population that will naturally be more receptive to getting veneers or whitening their teeth than to exhortations about dentures. Dr. Dorfman appeals to this crew in unusual ways: He's as prone to posting shirtless pics and ab-workout tutorials as he is before-and-after evidence of the transformative power of cosmetic dentistry. His social media recipe makes for a strange but highly effective brew.
His accounts will be fertile soil for promoting two upcoming product launches as well. On the horizon, he says, are POOF! and BuzzBalls. The former is a whitening strip that melts in the mouth after 15 minutes; Dr. Dorfman was spurred to create the latter by the fact that he longs for daily caffeine but doesn't like coffee: BuzzBalls are caffeinated gumdrops that use thymol and eucalyptus oils to give users fresh breath, as well as Xylitol to combat tooth decay. No stained teeth, no coffee breath.
Further cementing his influence, though, is his use of his social media megaphone to promote philanthropic causes such as LEAP, a week­long motivational summer leadership program for high school and college students that he cofounded more than a decade ago. In 2021, LEAP held an event at UCLA with 60 students and more than 3,000 virtual participants (before the pandemic, in-person attendance was closer to 8,000). For this year's event, held in July, Dr. Dorfman says he expects about 450 in-person attendees and 10,000 online. Just another day in the life of dentistry's most wildly successful self-promoter.
---
STEPHENIE GODDARD
CEO, Glidewell
Newport Beach, California
New
AFTER MORE THAN 50 years at the helm of the eponymous dental-lab products-and-services giant, Jim Glidewell passed the CEO baton to Goddard, winner of the 2020 Lucy Hobbs Mentor Award, on New Year's Day. Having spent 15 years at the company—she even shared an office with Glidewell himself for a spell—she has been well-positioned to take over.
Goddard's pre-Glidewell career encompassed corporate strategy, change management and leadership training; she worked as a strategy consultant for PricewaterhouseCoopers and spent five years with the International Finance Corporation before joining Glidewell as a human-resources VP in 2006. "They took a chance on me," she told Benco Dental managing partner Chuck Cohen in a podcast interview in 2021. "I knew nothing about dental besides getting a regular teeth cleaning."
Under her influence, the company launched Glidewell Uni­versity, an internal program that offers comprehensive six- and 10-month training to mid- and senior-level management. (When Goddard arrived, Glidewell had around 1,100 employees; today that number is closer to 5,000.) She also spearheaded the 2019 launch of Guiding Leaders, a Glidewell program that seeks to empower female luminaries at all levels of dentistry.
She and Jim Glidewell will continue to work closely together, she says; her septuagenarian predecessor, an industry legend, has pledged to continue his work at the company he founded more than five decades ago. "No, I'm not leaving the wheelhouse," he posted to LinkedIn in January. "But with all that we're doing to improve the lives of dentists and their patients, I could use another hand at the helm. After 15 years of working alongside [Goddard], I know of no one better suited to serve the needs of our customers and our industry."
---
STANLEY BERGMAN
Chairman of the Board and CEO, Henry Schein
Melville, New York
Returnee
HAVING STARTED with Henry Schein in 1980, when he was 29, Bergman was named CEO just nine years later and has been there ever since. Jonathan Koch's brief stint as CEO of Schein's Global Dental Group got Bergman bumped off this list in 2021, but when Koch left to join a British pharma firm (see "Notable Absences," page 43), Bergman stepped back into the role—and retook what seems like his rightful place in our Top 10.
His 33 years at the helm of Schein represent a rarity for a non-controlling CEO of a large public business that must mollify its restive shareholders. Bergman, now 71, is certainly good at it. Schein is the world's largest provider of health care products and services for dental and other medical professionals. It ended 2021 having logged $12.4 billion in sales, up from $10.1 billion in pandemic-straitened 2020; its average annual growth has been an astounding 12.5 percent since it first went public in 1995. Market ructions that have waylaid various medical stocks of late have mostly left Schein alone; its shares have risen from $73 to $81 (as of press time) over the past 12 months, boosting its market capitalization to $11.2 billion.
The company has also been a major player in the fight against Covid-19. (Bergman declined to comment to Incisal Edge.) It has donated more than 10 million units of personal protective equipment since the start of the pandemic, and this April, in partnership with the Legion of Good Will—a nonprofit organization that works frequently with the United Nations on relief efforts—donated more than 400,000 medical-grade face masks and other PPE to help stop the spread of the coronavirus in Brazil, the country in which Legion of Good Will was founded in January 1950.
Bergman stepping back into the spotlight reinforces the question we've asked for years: Who will legitimately succeed him, and how soon? The question nags at dentistry like a dull toothache that will one day need to be treated. We'll be watching.
---
WARDAH INAM
CEO, Overjet
Cambridge, Massachusetts
Last year: On the Cusp
THE COVER STAR of our Spring 2022 issue, Inam has become something of the echt dental innovator of late via her company's headlong rush into AI development. Inam founded Overjet as a postdoctoral fellow at the MIT Computer Science and Artificial Intelligence Lab in 2018, and by the end of last year, it had raised $42.5 million in Series B funding at a $425 million valuation. Last May, its flagship product, Overjet Dental Assist, received 510(k) clearance from the FDA, paving the way for it to sell directly to practitioners—and for the February 2022 patent approval for the AI tech that powers it.
Dental Assist uses that technology to measure teeth, detect irregularities and diagnose periodontal disease with as much (or more) precision and speed than even most highly skilled dentists. "Several industries have been benefiting from advances in AI, but technology providers have largely ignored dentistry," Inam says.
Inam's perspicacity and technical savvy are opening a new world of possibilities for patients, practices and manufacturers alike. Overjet's technology—and the grow­ing trend toward software as a medical device—helps doctors work faster, avoid misdiagnosis and ensure that insurance claims and payouts are more exact. She can't name-drop quite yet, though she does share that Overjet is "adding some of the largest and fastest-growing companies from both the practice and insurance sides to our customer portfolio."
Among Overjet's ultimate goals: to make possible instant claim approvals; increased accuracy in disease-progression measurement; and further integration of oral and whole-body health. Overjet already serves some 70 million patients around the world. She calls her tech "patient-centric AI"—a phrase we're sure to be hearing much more in the years ahead.
---
AMIR AGHDAEI
CEO, Envista Holdings
Brea, California
Last year: 12
THIS 32 MOST INFLUENTIAL fixture had an impressive 2021 on both the buy and sell sides, refocusing Envista's product offerings and entering into several strategic partnerships along the way.
The market has responded mostly favorably, despite some ups and downs, placing Envista's market cap at just above $6.4 billion as of press time. One highlight: Its acquisition of Carestream IOS for $600 million, set to close June 30, which will bring onboard an anticipated annual revenue stream of at least $60 million. "Given our portfolio transformation over the last two years, leveraging our Envista Business System, we feel confident in our position in the market," Aghdaei says, adding that specialty consumables and digitally integrated workflow productivity enhancers are a priority as he looks ahead.
Envista unloaded its KaVo business unit last year as part of this realignment, selling it for $383 million to Planmeca (see Heikki Kyöstilä, No. 19). Spark, Envista's clear aligner, has been a success in that packed market segment, with more than 100,000 patient adopters since its December 2020 launch. "Our other orthodontic innovations, such as [bracket system] Damon Ultima, have fueled our bracket-and-wire growth," Aghdaei says, adding that "Novel Biocare's N1 implant system received FDA clearance, a next step in accelerating our implant business worldwide."
Finally, Envista is teaming up with Pacific Dental Services (see Steve Thorne, No. 17) to improve clinical image analysis via AI. The plan is to unite Envista's DTX Studio Clinic software program throughout all clinicians served by the Pacific DSO. This, Aghdaei says, will "improve patient acceptance and expansion of [dentists'] capabilities to offer more specialty products. We intend to digitize, personalize and democratize the dental industry."
---
THE SENIOR CITIZEN DENTIST
Sage with Age,
Mulling Retirement
Everywhere, USA
New
AMERICA IS AN aging society—not quite on the level of, say, Japan, but gray enough. And just as the Baby Boomers are shuffling off into retirement, so our nation's dentists are finding themselves older than ever. (We can certainly relate.)
Some numbers to mix into your morning Metamucil: According to the American Dental Association, the number of dentists in the U.S. has jumped 22 percent since 2001, well ahead of overall population growth (15.4 percent). The number of senior dentists—those 65 and older—has more than doubled, to 32,000, making up around 16 percent of the force. More than 40 percent of American clinicians are at least 55. (A 39-year-old on Incisal Edge's inaugural 40 Under 40 list in 2011 will turn 50 this year. Tempus fugit.)
What does it all mean? Well, like the aging of American society overall, it's freighted with both promise and peril. Older doctors are likely to work fewer hours and see fewer patients, and more likely to be solo practitioners than work in a group facility or as a DSO affiliate. Grizzled fogies are also presumably less comfortable with the risk of airborne pathogens so common to the profession even before the pandemic. (This could help explain why 9 percent of dentists 55 and up retired in 2021, according to the ADA.)
No clinician, however healthy or skilled, can defeat the actuarial tables forever, of course, which means that more and more older docs will retire in the coming years. This will open slots for qualified tyros (see "Students to Watch," page 44), but it also portends a loss of institutional knowledge and local community ties. As the saying goes, aging beats the alternative—but it will have tremendous effects on dentistry in the next five, 10, 15 years that we're only now starting to experience, and to understand.
---
JAMES "WELLS" HUTCHISON
President and CEO, Delta Dental Plans Association
Oak Brook, Illinois
Last year: 14
HUTCHISON, KNOWN universally as Wells, is now 18 months into his gig at the helm of Delta Dental Plans Association (DDPA), the nonprofit group comprising 39 independent Delta Dental companies—which cover 50 states plus the District of Columbia and Puerto Rico. Together, these affiliates make up the country's largest dental network and provider of dental insurance. Delta works with 154,000 dentists and provides insurance to more than 83 million Americans, up 3 million over last year.
Hutchison, an attorney by trade who was DDPA's general counsel for five years before being promoted to CEO, has brought a renewed strategic focus to the company, elevating its emphasis on the role oral health plays in full-body wellness, as well as advocating for, financing and sharing research studies on the link between periodontal disease and a vast array of chronic health problems.
"For decades, Delta Dental has successfully collaborated with the dental health care community to promote the importance of oral health with customers across the United States," Hutchison tells Incisal Edge. "During the pandemic, we have been humbled to have the opportunity to step up our financial commitment to fund relief programs with a $1.1 billion system-wide response.
"Many of our member companies were able to deliver grants and low-interest or forgivable loans, and to subsidize higher costs associated with delivering care," he continues. "We remain committed to investing in the dental health care profession as we support [promoting knowledge of] oral health's connection to overall health."
---
GORDON J. CHRISTENSEN, JOHN KOIS AND FRANK SPEAR
Founder, Practical Clinical Courses; Founder and
Director, The Kois Center; Founder and Director, Spear Education • Provo, Utah; Seattle; Phoenix and Seattle
Last year: 15 (all three)
(For Christensen, please see "The Clinician's Mission," page 48.)
THE PEDAGOGICAL FORCES brought to bear over the years by Kois, 71, and Spear, 69, have been invaluable to promoting the cause of dental continuing education. The Kois Center, founded in 1994, is the foremost organization for independent research and applied learning for practitioners. The Seattle-based outfit offers advanced graduate clinical programs for practicing dentists—more than 1,500 lessons and dental CE materials in all—including curricula in esthetics, implants and restorative dentistry.
"Good questions inform, great questions transform" is one of Dr. Kois's guiding axioms, and over the decades it has steadily influenced the ethos of this godfather of hands-on teaching and mentoring. Far from relying on outdated-upon-publication textbooks, the Kois Center reimagines its lesson plans as quickly as dental technology changes, releasing new work that integrates the latest updates on Covid-19, digital workflows and technology overall.
Spear Education, meanwhile, was seemingly poised to weather the pandemic well, expanding its online education programs beyond practitioners into the patient realm. Its Patient Education animated videos (launched in 2015) have evolved into a suite of more than 200 instructional clips dubbed the "Chairside Rebranding Project" and overseen by Spear animation director Dan Kawabata. The videos walk patients through conditions and procedures in an easy-to-understand yet clinically accurate approach. The set was relaunched this January with enhancements such as a Spanish subtitles option. "The animation team has continued to develop a higher standard for the clinically accurate visuals we create," Kawabata says. "It's only deserving that the background and title placement receive the same level of thought and creativity, maintaining its place as a trusted source for patient education."
---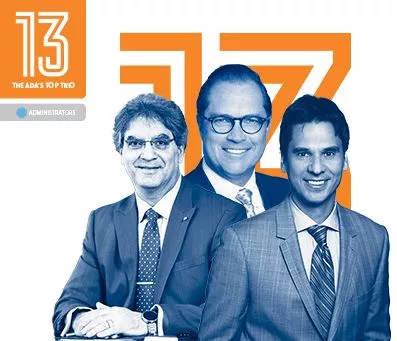 RAYMOND A. COHLMIA, MICHAEL GRAHAM AND MARKO VUJICIC
Executive Director; Chief Lobbyist; and Chief Economist, American Dental Association
Chicago; Washington, D.C.; Chicago New (Cohlmia)
Last year: 7 (Graham and Vujicic)
IT'S HARD TO overstate the influence wielded by master lobbyist Graham and data-and-research guru Vujicic, who heads the ADA's Health Policy Institute. And there's now a new name in the firmament: that of Cohlmia, who replaced 32 Most Influential stalwart Kathleen O'Loughlin as the ADA's executive director late last year.
Vujicic's HPI has kept a keen eye trained on dentistry's "new normal," conducting and publishing comprehensive research tackling such thorny (and au courant) topics as practice staffing shortages and how the much-ballyhooed "great resignation" is affecting the dental industry.
Graham, for his part, continues to educate lawmakers on Capitol Hill, advocating for continued protections and support for dentists and patients as he's done since long before anyone had heard of Covid-19. Thanks in part to his efforts, for example, more than 90 percent of dentists received Paycheck Protection Program funds during the first tranche in 2020.
As for Cohlmia, the longtime prac­titioner has served on the ADA's board of trustees and in its house of delegates. He was previously at the University of Oklahoma College of Dentistry as both its dean and director of comprehensive care. He vows to transform the association both digitally and culturally.
"I'm humbled and honored," Cohlmia said at the time of his appointment. "Organized dentistry plays an integral role in the advancement of the profession, and to me there is no better organization to advocate for oral health than the American Dental Association."
---
DOUG HUDSON
Cofounder and CEO, Tend Dental
Nashville, Tennessee
New
TEND DENTAL IS an ultrachic and fast-growing group of practices that experienced significant growth in the past year, having branched out from its origins as the hip Manhattanite's oral health provider.
"Dental Done Differently" is the company's slogan, and in the last year-plus Hudson's company has quadrupled its footprint, opening practices in D.C., Boston and Atlanta in addition to the 11 it operates throughout New York City. (A new location in Nashville will open sometime later this year.) "We came out of the pandemic as a business in which physical touch is a necessity and went through unprecedented growth, proving that dental is a durable retail model," says Hudson, who founded Tend in October 2019. "Our studio teams were put through the wringer with changing CDC guidelines, multiple extreme weather events and the growing pains of a company expanding rapidly. Through it all, they never lost sight of prioritizing our members or one another. I can't overstate how proud this makes me."
Among his other efforts in the past year, Hudson hired Tend's first chief operating officer, Bilal Bazzi, most recently an executive in the veterinary industry. "We were thrilled to add Bilal to our team," Hudson says, "as he's a true expert when it comes to leading complex, multisite organizations and scaling rapid growth."
Looking ahead, in addition to opening practices in new markets, Hudson is aiming to launch several new products in Tend's growing oral care line—the better to help patients look after their teeth and gums when they're not in one of the company's ever-stylish offices.
---
ZAINAB MACKIE
General Dentist, Social Media Star
St. Clair Shores, Michigan
New
THIS MOTOR CITY–area clinician, known to her 908,000 followers as "Your TikTok Dentist," has gained tremendous momentum on various social platforms (she has 186,000 followers on Instagram as well) by sharing information about dental procedures, debunking popularly held myths about tooth care—no matter who might say otherwise, don't use a dang nail file on your teeth!—and keeping her fans on target with their hygiene routines.
"Dr. Z Mackie," another of her nicknames, graduated from the University of Detroit Mercy School of Dentistry in 2014. She added orthodontics to her tool kit in 2019 and is trained in Invisalign and cosmetic dentistry as well. She got her start on social media, where her engaging personality makes her a natural. She has been featured in a variety of magazines and on websites including those of ABC News and the New York Post, offering advice and treatment solutions. Among the topics she has recently covered: how best to apply fake vampire teeth (she does not recommend using artificial-nail glue as an adhesive) and whether it's a good idea to use a Magic Eraser to whiten one's choppers (that would be a no).
Now 34, Your TikTokDentist maintains a practice in St. Clair Shores, Michigan, on the banks of Lake St. Clair just northeast of Detroit. As for her legions of social media followers? They're a great "means to connect, educate and evolve," she says.
---
BRIG. GEN. SHAN K. BAGBY
Chief, U.S. Army Dental Corps
San Antonio
New
BRIGADIER GENERAL BAGBY, a commissioned officer for three decades, ascended to his current position in May 2021. An oral and maxillofacial surgeon by trade, the brigadier general (the first African-American dental officer promoted to that rank) fills several roles for the army. The primary one, he says, is his work as Commanding General of the army's Regional Health Command–Central in San Antonio, the service's largest geographical medical region, serving 20 states home to 44 dental clinics that support over 500,000 medical (and 1.2 million public-health) beneficiaries.
Brigadier General Bagby had to help guide a nation still struggling with the pandemic upon his appointment. "The biggest challenge was controlling the narrative," he says, "to help the army tell the story of how the military was helping the national effort and still doing its wartime mission—we still have people deployed all around the world."
The 23,000 personnel assigned to RHC-Central under Brigadier General Bagby's command played a critical role in the army's pandemic response. "Our dental teams stepped up," he says. "A lot of our officers and our techs were the ones who went to set up Covid testing sites and vaccination centers. They provided a lot of that manpower that helped hospitals stay functional."
The motivation of military dentists, he says, is the same as that of civilian dentists: "The common theme is we feel like we're serving a higher purpose. We enjoy the environment of practice, where it's not about the money or how much you can bill. It's about doing the best you can for the soldiers, sailors and airmen who are serving our nation."
---
PAT BAUER, ROBERT FONTANA AND STEVE THORNE
CEO, Heartland Dental; CEO, Aspen Dental; Founder and CEO, Pacific Dental Services
Effingham, Illinois; East Syracuse, New York; Irvine, California New (Bauer)
Last year: 16 (Fontana and Thorne)
THIS TRIO OF DSO all-stars has changed a bit in name this year, but not in affiliation. Taking their customary place on the 32 Most Influential list are Aspen Dental ace Fontana and Pacific Dental poobah Thorne; new to the group is Heartland Dental honcho Bauer, who replaced Rick Workman as the company's CEO in 2015. Another thing that hasn't changed: These three big dental service organizations continue to dominate the industry nationwide.
Fontana, Aspen's CEO since 1998, oversees more than 975 locations across 45 states and this past December executed a big move to advance its laboratory collaboration by partnering with the software platform MyLabConnect. Aspen has lofty goals for its other technology advances as well, recently announcing plans to make all its locations fully digital by 2023—a plan that, if successful, will make Aspen the largest network of digital dental offices in the world.
Pacific boasts 900 sup­ported practices in 26 states and plans to add another 100 locations this year. Though it insists it still has no plans to go public, it did hit more than $2 billion in revenue in 2021, a benchmark that few privately held companies achieve. Among its virtues: It is, Thorne says, the first DSO to implement the Epic health-records system. "All organizations using Epic can easily exchange patient data for improved care," he tells Incisal Edge. "This gives [Pacific]-supported dentists and specialists the ability to coor­dinate care, close care gaps and reduce duplication."
Bauer, meanwhile, takes over the largest DSO in the country: Heartland supports some 2,300 doctors in 1,500 practices across 38 states. It officially closed the deal on the largest DSO partnership last year—an affiliation of American Dental Partners that will bring in in nearly 300 new locations. Bauer has also announced his intention to open more than 100 new locations in 2022 in Florida, Idaho, Georgia, North Carolina and Texas.
---
HOWARD FARRAN
Founder, Dentaltown.com, Dentaltown Magazine
Phoenix
Last year: 22
AH, DEAREST HOWARD: How do we love thee? Let us count the ways: This marks the good doctor's sixth appearance on the 32 Most Influential, meaning he's been here every year, peaking at No. 3 in 2017 and 2019, with an average ranking of No. 10 throughout the life of this august list. Impressive.
This gregarious dentist and media mogul has spent the last 12 months of his life "recalibrating," he says—reflecting on the moves he's made that have put him in a continued position of strength these last several trying years, and on what really matters at this stage of his life (he's 65) and career. "My definition of being successful has changed dramatically from what it used to be," he muses. "Success isn't always a constant upswing in business or revenue. Sometimes it's being able to stay where you are, rest a while and catch your breath."
He also listened to his staffers at Farran Media, which counts Dentaltown, Hygienetown and Orthotown among its tendrils. "Last year, I had time to look back and see how smart I'd been to hire people I trusted to do the right thing in their positions, and then get out of their way and give them the freedom to do it," he says, referring to his increased acceptance of remote work, an idea formerly anathema to him.
One key addition to his team: his newest granddaughter, Lillian. Her arrival during the pandemic has made staying close to home and foregoing air travel an easy decision, he says. And so this lion in the desert will continue to oversee his media and practice empire his way, on his own time. We should all be so lucky.
---
HEIKKI KYÖSTILÄ
CEO, Planmeca Group
Helsinki, Finland
New
THE WORLD'S LARGEST privately owned dental supply company started as an idea hammered out on the road. While working as a dental supply sales rep in the 1960s, Finnish businessman Kyöstilä noticed a lack of ergonomic stools and instrument cabinets. Now 76, Kyöstilä went on to debut ergonomic prototypes at the 1971 IDS dental trade fair in Munich. Demand was immediate, and the products put his new company, Planmeca, on the map at a time when most of Finland's dental supplies were imported from Germany. It's now one of the largest dental equipment manufacturers in the world, with six subsidiaries, 4,500 employees and roughly 500 distributors in 120 countries.
Today, Planmeca's ancillaries produce a variety of health care technology, including 2D and 3D imaging systems, CAD/CAM, software, ergonomic furniture, mammography devices and more. Most recently, it acquired KaVo from Envista Holdings (see Amir Aghdaei, No. 9) and Instrument, a German maker of dental chairs, stools and more, which are distributed in 60 countries.
The acquisition was strategic for both Planmeca and Kyöstilä himself: The company owns 51 percent of the KaVo business; he owns the remainder. Forbes pegs his net worth at $1.3 billion.
"This partnership will make us a very strong player," Kyöstilä told the media at the time. "I believe our companies are a great match—we share the same standards and passion for high technology, quality and innovation, and for offering a complete digital workflow for our customers."
---
NATALIA CHALMERS
Chief Dental Officer, Centers for Medicare and Medicaid Services
Silver Spring, Maryland
New
IT MIGHT COME as a surprise that until Dr. Chalmers was named chief dental officer for CMS, the 57-year-old federal agency had never had a dental-specific leadership position.
Broadly speaking, as CDO, Dr. Chalmers will guide dental programs as they pertain to the Children's Health Insurance Program (CHIP), the Health Insurance Marketplace and Medicare. Says an agency spokesperson, "Dr. Chalmers advances the CMS commitment to care for the whole person, a key to reducing health disparities and advancing health equity."
As with any new position, though, the realized vision of its impact will be determined largely by the person filling the shoes. A fierce public health advocate, Dr. Chalmers is a pediatric dentist with more than 20 years of clinical, research and public policy experience, including time spent as a dental officer within the FDA. She received her DDS from Bulgaria's Medical University of Sofia and did her pediatric residency at the University of Maryland School of Dentistry; she also earned a master's in clinical research and a Ph.D. in oral microbiology from Duke University School of Medicine.
She has long been passionate about whole-body health, preventing disease and boosting access to care for those who might otherwise go without. Her testimony to Maryland's state legislature, for example, was key to the passage of the Adult Medicaid Dental Benefits bill, which instituted such coverage in the Old Line State beginning in 2019. "I consider it a great gift to spend my days trying to make a difference in people's lives," she says, "and I'm grateful to do it with such amazing, dedicated CMS colleagues."
---
WAEL GARINE, PARAG KACHALIA AND AMANDA SEAY
Next-Gen Leaders, Seattle Study Club
West Palm Beach, Florida; San Ramon, California; Mt. Pleasant, South Carolina
Last year: 11 (all)
THIS TRIO of new leaders of the Seattle Study Club debuted on this list a year ago, having been selected by SSC founder Dr. Michael Cohen to continue his valuable work. The three have wasted no time since being handed clinical leadership of the three-decade-old group, which connects nearly 7,500 dentists through some 260 clubs worldwide for continuing education, professional networking and more.
Among the biggest challenges was the emergence of the Omicron coronavirus variant late last year. The SSC was of course forced to host its lauded annual symposium virtually in 2020 but held the gathering in person this January. "By assembling a panel of health experts, we were able to have a process in our decision making and not simply act by emotion," says Dr. Kachalia, the SSC's director of educational development and industry relations.
The coming 12 months promise much more. "We have so many exciting things planned," says Dr. Seay, who runs Expertise Dental, a restorative and cosmetic practice in Mt. Pleasant, South Carolina. "We're currently launching Compleat Curriculum III and developing CCIV as we speak. Compleat is a unique, completely turnkey program that offers high-quality education." More conferences are on the way, including SSC's Rising Stars Forum, Study Club Coordinators Conference and the Directors Summit. In late April, meanwhile, SSC announced a partnership with Overjet (see Wardah Inam, No. 8) to boost dental artificial intelligence technology uptake in SSC member practices.
---
BETE JOHNSON
Senior Vice President and General Manager of Dentistry, CareCredit
Costa Mesa, California
Last year: 27
NEW TO THIS LIST last year, Johnson has earned a repeat appearance thanks to the work she's been doing at CareCredit for more than two decades. The company, owned by Synchrony Financial, provides financing to dental patients who can't pay upfront or who prefer to break their payments into installments. With interest-free financing for up to 24 months, it's little wonder more than 11 million Americans use the service every year. "CareCredit puts power back into the patient's hands by providing flexibility, convenience and critical financial relief," Johnson says.
CareCredit got its start in 1987 as a business that helped finance implant treatments; today it has expanded to general dental procedures and partners with more than 250,000 health providers and retail locations. In recent years it has also nimbly maneuvered the rapidly shifting ground beneath it, acclimating to telehealth visits and digital communication that "move at the pace of patient expectations," Johnson says. It has introduced QR codes with custom links associated with practices' Merchant ID number, for example, making it easy to see who has applied, been approved and has available credit.
"More patients are becoming consumers of dental care, meaning they're becoming more educated about their dental health and the options to pay for it," Johnson continues. "As a result, they're looking for providers that offer easy and personalized experiences from appointment through payment." The numbers back her up: In the fourth quarter of 2021 alone, CareCredit financed some $10.2 billion worth of care, a $600 million (70 percent) increase from Q4 2020.
---
LINDA C. NIESSEN
Founding Dean, Vice Provost for Oral Health Affairs and Professor, Kansas City University College of Dental Medicine
Kansas City, Missouri
New
NAMED A "Woman Who Inspires" by this magazine last year, Dr. Niessen has made an extraordinary impact on KCU Dental, an $80 million project in Missouri that as of press time is roughly halfway complete and set to open in 2023.
The newest facility, in Joplin, Missouri, is part of a cooperative effort to address health care needs in the rural region where Missouri, Arkansas, Oklahoma and Kansas meet. Those needs were underscored by the fact that the nascent school hit 75 percent of its initial $40 million fundraising goal within four months of the original announcement.
It's all of a piece for Dr. Niessen, whose storied career got its start through her work as a commissioned officer with the Indian Health Service in Oklahoma. She would later work for Dentsply for 15 years and as a professor and dean at Nova Southeastern Dental in Florida before joining KCU as the school's founding dean in 2020. She also coauthored the section on working adults in the Surgeon General's new oral health report (see Bruce Dye and Judith Albino, No. 25).
From fundraising to staffing, Dr. Niessen has combined her university's mission and a "just say yes" culture of dentistry, seeking out talented dentists and academics to staff the school and mentor young people and the underrepresented as they begin their dental careers.
Come July 2023, Dr. Niessen hopes to welcome the inaugural class of 80 students to KCU Dental. "Our enthusiastic faculty will help them achieve their dreams," she says, "and these pioneering students will go on to improve the oral health of the communities they serve."
---
ANTON WOOLF
CEO, Argen
San Diego
Last year: 29
WOOLF AND HIS compatriots at Argen spent no time sulking in the darker corners of the pandemic. Instead, he brought unprecedented growth to the family-owned and -operated dental lab partner, whose newest venture includes (all together now) clear aligners.
Throughout the challenges of broad Covid-19 shutdowns in 2020, many of Argen's lab customers looked to Woolf's firm to provide support for their digital manufacturing resources, requests that led Argen to add some 150 new manufacturing employees and significantly expand its production capabilities.
Sales remain robust across the company's variegated product lines, which Woolf credits to investing in Argen's staff—his top priority, he says: "We have come into 2022 a stronger and more unified team." He has put together what he calls a "five-year global strategic plan" designed to quadruple Argen's valuation. "We have solutions in the final stages of development that can help our lab customers deliver high-quality dental restorations in a more efficient and streamlined process."
The overall plan, dubbed "Thrive in Five," includes increasing Argen's employee base by more than half, expanding its facilities throughout the U.S. and Canada, and further investing in 3D printing and related technology. "We continue to be extremely optimistic about the growth opportunities for our dental laboratory partners," Woolf says. "As we help them become more successful, we know our success will follow."
---
BRUCE DYE AND JUDITH ALBINO
Co-directors, the Surgeon General's Oral Health in America Report
Boulder, Colorado; San Francisco
New
IT TOOK TWO DECADES, but the newest U.S. Surgeon General's report on Americans' oral health, an 800-page doorstop released in late 2020, seems to have been worth the wait, thanks in large part to the two doctors who spearheaded it.
Dr. Albino is a lauded researcher and clinician who was the first female president of the University of Colorado (1991-95) and who directed the only NIDCR-funded Center for Native Oral Health Research, a project that studied more than 2,000 children living on Native American reservations.
Oral Health in America was equally a labor of love. "It was fun, it was a lot of work, it was tedious and frustrating, it was rewarding," Dr. Albino says. "On the more difficult side was Covid—disrupting our work routine, closing universities and dental practices and requiring that we address new topics [in the report] related to the virus."
Dr. Dye is an internationally recognized dental epidemiologist at Colorado's School of Dental Medicine. Working on the report, he says, was unlike anything he'd previously done in his career. "It captured a lot of what's accelerating within the dental world," he tells Incisal Edge. "For example, moving beyond recognition that oral health is integral to overall health to an improved health care system that benefits all. This directly supports the notion that oral health care is essential health care."
NIDCR director Rena D'Souza (see No. 4) is effusive about the duo's efforts. "Since the release of Oral Health in America, we at NIDCR have continued to relay its findings and recommendations to oral health professionals, researchers and other stakeholders through a series of webinars, papers and discussions," she says. For Dr. Albino, its historical sweep is significant. "Emerging messages from [the 2000 report] are now primary messages," she says. "We can no longer afford not to address these issues."
---
CHRIS STEVEN VILLANUEVA
Founder and CEO, MB2
Dallas
New
DR. VILLANUEVA calls MB2 "the original Dental Partnership Organization," or DPO, a term he and his colleagues coined some years back. In the mid-2000s, he realized that he desired the benefits of a large group facility with the control and intimacy of a solo practice, something that didn't really exist at the time. So he created it, founding MB2 in 2007.
The DPO, which MB2 officially describes as "a well-organized cooperative that consists of dentists and shareholders who make a financial investment in each partner's dental practices," grew right out of the gate and recently celebrated the integration of its 400th practice in the United States; MB2 facilities can be found in 36 states and partner with more than 700 doctors nationwide.
Its partner-affiliation process is unique, beginning with a "Discovery Day" in which potential partners are invited (with their spouse or partner) to the MB2 home office in Dallas to meet the leadership team and mutually assess the presumed fit. MB2's "Integration Team" then takes over and begins onboarding the new partner practice. From start to finish, it takes about 60 to 90 days to complete. "Our doctor partners retain equity and continue to operate as owner," Dr. Villanueva says. "They keep their practice brand. From here, it's at the doctor partner's discretion [as to] which services they want to utilize, and to what extent."
A second recapitalization last year, he says, was a sound move. "Nearly 50 percent of the company was repurchased by our doctor partners during the transaction. Giving them this financial opportunity twice now is something really no other group has done."
---
JEFF JOHNSON
Senior Research Analyst, Medical Technology, Robert W. Baird & Company
Milwaukee
Last year: 23
REGULAR READERS will recognize Johnson's continuous presence on this list—and then some: At the height of the pandemic, dentistry's most trusted analyst wrote a piece for Incisal Edge, "Better Days Ahead?" (Summer 2020), that aimed to make sense of where the industry might be going amid Covid-19.
Though he has been with Baird nearly two decades, Johnson was an optometrist before making the career switch. "I realized I was one of those dumb docs who knew nothing about business," he says wryly. He earned an MBA at Northwestern's Kellogg School of Management, graduating summa cum laude and interning with Baird one summer. "After covering ophthalmology stocks, I realized I liked Wall Street and the daily volatility of the stock market."
His work entails keeping an eagle eye on the industry's biggest public companies—Straumann Group, Schein, Align and more—as well as other medical-tech firms. Through the first half of 2021, he says, dental performed better than anticipated; by last summer, patient volumes in dental practices had returned to levels at or slightly above those of pre-pandemic times. "That's not to say 2021 was completely smooth sailing for dental," he hastens to add. Privately owned practices, for example, have struggled with staffing and the cost of more intensive cleaning protocols.
And for the rest of this year into next? "We're cautiously optimistic," Johnson says. "Dental has faced many challenges over the years and always seems to persevere."
---
DIEGO GABATHULER
CEO, Ivoclar
Schaan, Liechtenstein
Last year: 13
WITH OFFICES IN 30 countries and a workforce 3,600 strong, Ivoclar is now the second-largest privately held dental company behind Planmeca (see Heikki Kyöstilä, No. 19). These days it's perhaps best known for its IPS e.max system and Ivotion digital denture system, but it began life humbly a century ago in Zurich by producing artificial teeth. (Christoph Zeller, who inherited the company from his grandfather, stepped down as CEO in 2003 but continues to serve on its board.)
Gabathuler took over as CEO in 2019, and under his stewardship Ivoclar has remained a leading manufacturer of materials for dental devices and applications. Of late, the company has been busy launching updated versions of its core products, as well as a host of new ones. It released a new iteration of its VivaPen this March, one with better buttons, a dispensing system and a cannula attachment. This followed the late-2021 debut of the new VivaScan intraoral scanner, a lightweight, ergonomic and easy-to-maneuver stand-alone system that easily integrates with digital dentistry tools and, crucially, with Ivoclar Cloud as well.
---
MIGUEL STANLEY
Founder, White Clinic and
Slow Dentistry Global Network
Lisbon, Portugal
New
HE'S THE FOUNDER and clinical director of White Clinic, a dental center in Lisbon. He cofounded the Swiss nonprofit Slow Dentistry Global Network. He's vice president of the Digital Dentistry Society, an adjunct professor at the University of Pennsylvania School of Dental Medicine and an international lecturer. More important to recent world events, though, Dr. Stanley is also a tireless humanitarian and an advocate for helping the neediest.
This February 27, three days into Russia's invasion of Ukraine, Dr. Stanley and his Ukrainian father-in-law packed a van full of medical and baby supplies and drove 2,500 miles from Portugal to Poland to support the war effort and refugees. They had no solid plan in place, so Dr. Stanley reached out to a colleague in Kyiv, who put him in touch with a man named Wojciech Fec, a distributor of dental materials. "This incredible human pretty much gave up his job and dedicated all his efforts to helping the Ukrainian people get immediate assistance," Dr. Stanley says of Fec. "For me, he is a true hero. I am humbled by his dedication, selflessness and humanity."
Now back in Portugal, Dr. Stanley has a lot on his plate for the rest of the year. "I'm looking into stem cell therapy combined with light therapy and a bunch of other cool biohacking technologies," he says. He's also working with colleague Ana Paz to develop what he calls the "Paz Protocol," which combines dermatology and dental biology for extraordinary skin care. "Stay tuned," he says. We certainly will.
---
JAY GEIER
Founder, The Scheduling Institute
Alpharetta, Georgia
New
IF A GOOD business strategy is the foundation of success, Geier's Scheduling Institute will help you pour it. He teaches young (and plateaued) dentists how to make money. The growth-focused guru founded his practice coaching firm in 1997 after noticing an opportunity to convert leads from a rote phone call into real patients with real appointments. Today the institute's scalable learning modules go way beyond the near-antiquated phone; his methods, he says, have helped more than 2,300 practices around the globe.
SI, headquartered near Atlanta with outposts in that city and Phoenix, bills itself as "a world authority on growing independent practices." It offers a free audit of an office's front-desk processes, plus a variety of paid-for tools including seminars and on-site training for practitioners and staff alike—all with the goal of attracting and retaining new patients.
The institute claims its tactics can more than triple one's monthly new-patient intake, reduce practice debt and lead to significant improvements in workplace culture and employee contentment. "Nearly three years ago, we began advising clients that a human-capital crisis was coming and that they needed to do more to retain their best employees. And then came a pandemic," Geier told Dental Economics last December. "Those who already had effective retention strategies in place and continued to demonstrate care and concern during the industry shutdown were the quickest to recover. Those who ignored our advice are still struggling because they lost valuable employees and are unable to attract good replacements."
---
TOM DAULTON
CEO, National Dentex Labs
Cincinnati; Jupiter, Florida
Last year: 32
NDX HEAD DAULTON debuted on this list last year at No. 32. We highlighted the March 2021 news that NDX, the largest dental lab network (by revenue) in the United States, had acquired Dental Services Group, a smaller competitor, and that Daulton would be CEO of the combined entity, which would operate under the National Dentex Labs name.
He has kept his foot on the gas in the 12 months since, to say the least, completing a spree of acquisitions (albeit relatively modest ones) that will help bolster NDX's position in the laboratory and restorative space. The tie-ups are surely due, at least in part, to the controlling stake in NDX held by Cerberus Capital Management, a New York private equity firm with more than $50 billion in assets. Cerberus purchased its stake in November 2020. Among NDX's recent deals:
In October 2021, it picked up Dynamic Dental Solutions, a Jacksonville-based lab (around in one form or another since 1976) that serves big chunks of ever-important Florida with roughly 50 employees in a 13,000-square-foot facility.
Last November, NDX acquired Dental Arts, a small lab in South Charleston, West Virginia. Dental Arts' co-owners stayed in their roles; "we know the importance of maintaining strong local relationships," Daulton said at the time.
This January, it acquired Biotech Dental Prosthetics of Palm Beach Gardens, Florida. NDX evidently thinks highly enough of the business that it relocated Biotech to its headquarters in Jupiter (admittedly just 10 miles up the road) and made its president, Frank Lavonia III, general manager of the new lab.
Small(ish) moves, to be sure. But perhaps they're enough to boost NDX's market share and keep the likes of industry titan Glidewell (see Stephenie Goddard, No. 6) on its toes.
---
ANNE VELA-WAGNER
Executive Director,
Mars Wrigley Foundation
Chicago
New
VELA-WAGNER oversees partnerships in more than 20 countries for the Mars Wrigley Foundation, the philanthropic arm of the confectionery, pet food and snack behemoth owned entirely by the press-shy Mars family. A Chicago native, she earned her BA at the University of Illinois and her MSC from Northwestern. She also supervises the Mars Ambassador Program, which offers employees a chance to pursue their charitable interests around the world.
Intriguingly, given its primary product lines, the Mars Wrigley Foundation is one of the largest funders of dental programs in the United States, having donated $2.1 million to dental charities and related programs in 2018, the last public filing currently available. One leading recipient is the Chicago Dental Society; the foundation helps finance treatment and oral-health education for socioeconomically challenged groups under the auspices of the CDS.
Last year, Mars Wrigley funded grants assisting with oral health needs of pediatric cancer patients, LGBT oral health advocacy, refugee programs and more. It also finances the CDS Foundation's Healthier Smiles Grant Program, which gives $5,000 to nine CDS member dentists and second- or third-year dental students. "Mars Wrigley has underwritten this program every year since 2014," CDS Foundation executive director Kristen Weber tells Incisal Edge. "They give CDSF $50,000. Of that, we keep $5,000 for administration, and award $45,000 to individual grantees."
Dr. Lawrence Tabak is surely the highest-ranking dentist in the federal government—even if the impact he makes daily on dentistry itself is de minimis. What explains that?
AFTER DR. FRANCIS S. COLLINS, the longest-serving director of the National Institutes of Health, stepped down in late 2021, the federal agency asked Dr. Tabak to take the helm as acting director. A respected researcher, he had served as principal deputy director and deputy ethics counselor for the NIH since 2010; he earlier spent a decade directing the National Institute for Dental and Craniofacial Research. Health and Human Services secretary Xavier Becerra praised his "long tenure and broad experience at the NIH" upon his appointment.
As acting director of the world's largest biomedical research agency, Dr. Tabak will make policy recommendations and help allocate budgets and set priorities for the 27 entities it guides, including the National Cancer Institute, the Center for Scientific Review and the NIDCR. (It's unheard of for a dentist to ascend to the top of the NIH, even in an interim role, and while he's the boss of Rena D'Souza [No. 4], the NIDCR's current director, he's not enormously influential in dentistry day to day. Hence his appearance here and not on our main list.)
Based on federal budget proposals, Dr. Tabak says he's hopeful for increased funding for, among other things, cancer research and therapies, pandemic preparedness, nutritional research, substance abuse and more. (He declined to comment further to Incisal Edge.) A New York native, he earned his DDS from Columbia University and holds both a Ph.D. and a certificate of proficiency in endodontics from the University of Buffalo. He has also received an NIH award for his research into the structure, function and biosynthesis of glycoproteins.

By Abigail Rush
Dentistry has made great strides over the decades. Yet seemingly intractable problems remain: the burden of student debt… nagging difficulties some communities have getting access to basic oral health care… a lingering lack of diversity at all levels of the profession. Here are seven of the many people working to fix them all.
PAUL AMUNDSEN
Vice president for development and charitable programs, the American Academy of Pediatric Dentistry Foundation Chicago
The American Academy of Pediatric Dentistry Foundation began supporting access-to-care initiatives in 2010, about a year before Amundsen came aboard. The organization was surprised to learn just how much such efforts were needed: Demand doubled each of the first three years. The AAPD Foundation has since donated more than $6.5 million in $20,000 "Access to Care Grants" to dental schools and clinics around the country—and it's ramping up its operations, intending to award another $2 million in 2022 alone.
Reports from each grant recipient have been rewarding, as have site visits. Popping into an elementary school in a rural agricultural community early in his tenure, Amundsen saw "the grant recipient's mobile unit: a recreational vehicle stocked with top-of-the-line dental equipment," he says. "It did regional outreach, while the brick-and-mortar facility served as the 'dental home' for children with more significant needs. Third-graders were filing in and out for exams when I heard one of them observe, 'This RV is nicer than the camper I live in.' That sums up that access to quality oral health care is just one of the challenges facing families in need."
The foundation welcomes assistance of any kind, he notes. "We've supported 139 clinics and dental schools in 34 states plus the District of Columbia." Endowment growth over the years, he adds, means that 100 percent of donations go directly to help children in need. To donate, or to apply for a grant, please visit aapdfoundation.org.
---
ADEEB KHAN
Executive director and vice president of corporate social responsibility, Delta Dental of Colorado Foundation Denver
Delta Dental's Colorado chapter—bringing what it calls
"Mile High Smile Power" to some 1.4 million residents—aims to elevate the well-being of those in the Centennial State by advancing oral health equity through whatever means it can. Khan joined the organization in January 2020, around the time Delta Dental decided it would begin to focus more on changing the system than simply throwing money at the problems the current system was continuing to create.
"We're constantly challenging ourselves by asking questions," he says. "What does our mission mean? How do we fulfill it? How can we improve?"
One key initiative is Delta Dental's Medical/Dental Integration Tool Kit, which stems from a project begun in 2015 "to expand access to dental services for populations who experienced limited access to dental care due to insurance status, location and transportation barriers," as the organization puts it. The Tool Kit helps practitioners incorporate oral health into existing primary-care offices to boost access to oral care. It has helped an enormous amount of people in Colorado, Khan says—in its first three years, for example, it served nearly 60,000 Coloradans, 71 percent of whom were Medicaid patients and another 22 percent of whom were uninsured altogether—and he's hoping to scale it at the national level as well.
---
DR. ROSA CHAVIANO-MORAN
Immediate past president of the Hispanic Dental Association; associate dean for admissions, Rutgers School of Dental Medicine Newark, New Jersey
Dr. Chaviano-Moran's life and career have placed her in position to recognize what it will take to address intractable problems. "This call to action is for the hygienists, dental assistants and dental technicians," she says. "We are all part of the dental team."
One contributing factor: While she knows it's critical that dental programs enroll students from historically underserved groups, dental school can be eye-wateringly expensive. As an admissions officer at Rutgers, Dr. Chaviano-Moran is focused on recruitment and (crucially) retention of such students. The unspoken assumption that minority students "won't or can't make it" through school, she says, can do tremendous harm.
"Diversity breeds educational excellence and advances health equity," she says, noting proudly that Rutgers Dental is one of the most diverse oral health institutions in the U.S. Both the American Dental Education Association and the ADA have praised her commitment. The best way to help, she says: simply get involved, whether through mentoring, volunteering time or seeding loan-reimbursement programs for needy students. It is, she says, "a duty to address and alleviate the current challenges and barriers faced by the wonderful profession of dentistry."
---
DR. LAILA HISHAW
Founder, Diversity in Dentistry Mentorships Tucson, Arizona
Dr. Hishaw realized she wanted to help dentistry diversify four years ago, when she learned from the ADA's Health Policy Institute that just 5.2 percent of American dentists are black, 3.8 percent are Hispanic and 1.1 percent are Native American, Alaska natives or Pacific Islanders.
She began with an informal post on her personal Facebook page, offering to mentor dental students or prospective students of color. She created a Facebook Group for young people and their families that offered a host of webinars and mentoring services to inspire them to consider a dental career.
In 2021, Diversity in Dentistry Mentorships was incorporated as a 501(c)(3) nonprofit. "As our following grew, I realized many members of our community were young people interested in dentistry but who could use a guiding voice," Dr. Hishaw says. "Minority students often feel a burden to prove they're worthy of being in the field. I want to strengthen the diversity pathway from middle school to dental school but also help students applying to dental school be successful."
The group's mentoring is made possible by volunteers alone, she notes. "Mentoring can bring about rewarding connections for both parties," she adds. "Mentoring also helps young people feel seen and heard. It helps them know that they matter and that they have a voice."
---
DR. CESAR SABATES
President, American Dental Association Coral Gables, Florida
Is there a more all-consuming topic for recent dental school graduates (and students-to-be) than educational debt, which now averages some $300,000 per student? Dr. Sabates—who assumed his current executive role at the American Dental Association in November 2021—has made a priority of the group's "Plan Your Financial Journey," a series of webinars that aims to make students better equipped to handle their debt burden. He's aided in this by, among others, Dr. Raymond A. Cohlmia, the ADA's executive director (see No. 13 in the main 32 Most Influential list).
Expertise is provided by association members, financial professionals and insurance and retirement-plan experts, all of whom are endorsed by the ADA. (Among current topics: Should you refinance with interest rates increasing? Is now the right time to acquire a practice loan or home mortgage? How is the current state of the world affecting the profession?)
Dr. Sabates is motivated to help students and dentists manage their financial affairs through the example of his father, an oral and maxillofacial surgeon "who instilled within me the importance of gratitude and service," he says. "That's what I consider the most beautiful thing about dentistry: Our profession is made up of some of the most genuine and thoughtful people I've ever known"—genuine and thoughtful people he's working hard to ensure won't be buried under a mountain of debt for decades to come.
---
DR. GEORGE JENKINS
Associate dean for access, equity and inclusion at Columbia University College of Dental Medicine • New York, New York
It's no secret why Dr. Jenkins has such motivation to contribute to positive change in dentistry, he says. After all, he grew up with considerable proximity to the issues to which he's now devoted. He spent his childhood in Newark, New Jersey, in the 1980s and faced many challenges. Years later, he wanted to return with useful expertise, knowing of the substantial evidence that points to more positive health outcomes associated with relatable health care providers.
"I feel the most impact with exposing young people to the [dental] profession at an early age, and coaching students to and through the process of becoming health care professionals," he says, "challenging them to use their acquired abilities to be an active soldier in the fight for equity in health care."
A good first step, he says, is to support your dental school—whether your alma mater or simply one in the area—any way you can. Outreach to younger patients in the chair never hurts, either. Dr. Jenkins—who earned his DMD from New Jersey Dental School (now Rutgers School of Dental Medicine) in 1999—learned about dentistry from "a caring orthodontist who took the time to educate me." That's something he tries to pass on to as many young people as he can. "I feel hopeful when I see students who work toward growing into leaders who feel a social responsibility to serve," he says. "They make me hopeful that there's light at the end of the tunnel."
---
DR. MARY TEDDY WRAY
Owner and CEO, Laurel Bush Dentistry Bel Air, Maryland
Shortly after Dr. Wray began practicing dentistry, she realized that lack of diversity in the profession wasn't just an individual problem but one that compounded the difficulty of access to care in her Maryland community. Having started her career in the Johns Hopkins Health Systems, she opened Laurel Bush in 2001 and immediately set out to extend services to anyone who lacked funds, was insured via Medicaid or facing other unfortunate circumstances. She visited several African-American churches in the area, introduced herself and mentioned all she had to offer. This led her to several nonprofit groups that catered to clients who were desperate for dental care but couldn't find a clinician willing to serve them.
"Twelve years ago, I was invited to a halfway house for recovering women," says Dr. Wray, recipient of the Lucy Hobbs Humanitarian Award in 2016. "There I met an 18-year-old who suffered rampant caries because of drug abuse. Several days later, she called my office and sought an emergency appointment. It took about a year to finish her treatment. The following year, her parents wrote me a long thank-you letter telling me that treating their daughter gave her the motivation and confidence to go back to school. She's now currently employed by a big [fashion] designer in New York City."
Dr. Wray also gives back in more unorthodox ways, having used her talent as a ballroom dancer to raise more than $120,000 for Maryland nonprofits via charity galas. "The best gift we can give of others is ourselves," she says. "All you need is the ability, the desire and the time to make yourself available."
DON CASEY
Former CEO, Dentsply Sirona
Last year: No. 6
Industry watchers were gobsmacked in late April when Casey was terminated, effective immediately—the company's third CEO in a row to be shown the door. Turmoil elsewhere at the top augurs ill, too; one analyst notes that investor confidence in the board is likely ebbing, making Dentsply Sirona a potentially attractive target for activist shareholders. Stay tuned.
---
RICK WORKMAN
Founder and executive chairman, Heartland Dental
Last year: No. 16
Workman founded Heartland, now the country's largest DSO, in 1997, and for several years we've wondered when he planned to reduce his role. He has now done so, passing the reins to Pat Bauer (No. 17), Heartland's longtime president who was named CEO in 2015. Workman surely still pulls some levers behind the scenes—but going forward it's Bauer's DSO now.
---
CASEY HANNAN
Director, Division of Oral Health, the CDC's National Center for Chronic Disease Prevention and Health Promotion
Last year: No. 17
Whatever your opinion of the CDC's mask mandate for public transit, its overturning in April hints that the bloom is off the CDC's rose a bit. Hannan still does vital work, but the public has shifted from a 24/7 pandemic mindset, dentistry has adjusted and the arc of his influence is on the downswing.
---
DAVID KATZMAN
CEO, Smile Direct Club
Last year: No. 18
Dental professionals are not, by inclination, a vindictive lot, but orthodontists around the country can be excused a little schadenfreude at Smile Direct Club's difficulties of late. Its stock has whipsawed in recent years as it has worked to burnish its reputation amid regulatory scrutiny, but it's on the outs right now. It went public in September 2019 at $23 per share but has never again hit that mark; as of press time its stock was languishing under $2. Frowns all around.
---
JONATHAN KOCH
Former senior vice president and CEO, Global Dental Group, Henry Schein
Last year: No. 20
How quickly things can change. At Schein, Koch was responsible for overseeing that industry giant's largest health care division and top technology business, but last October, he was lured away by Fishawack Health, a U.K. pharma, biotech and medical technology firm. It's a return of sorts to the work he did for a dozen years at Covance (now Labcorp), and it prompted Stanley Bergman (No. 7) to step back into the spotlight at Schein.